Join us for a deep journey into the runic oracle. In this live, online workshop, we will explore myth, magic and nature, guided by the runes.
The runes are an ancient form of divination or oracle reading system that's used to help gain insight into situations or questions. This workshop will be an immersion into this rich, living tradition in Scandinavia. Our sources will be rune stones, stories, texts, folk-magic, sagas and the Poetic Edda (the Grandmother). 
Andreas Kornevall will take us through the lesser known branches of the great World Tree (Yggdrasil) where we will hear about subjects such as grief, reconciliation and climate change, which will make the workshop truly relevant to contemporary issues. 
The Northern Pantheon will be introduced alongside local spirits that live in the rivers, forests, meadows and hilltops in parts of the British isles and beyond.

The day will include:

The Norse Creation Myth and the story that lies at the heart of Norse Mythology: the Birth of Wisdom
Runic Divination: Exploring the rich tradition of the runes with castings, spreads, rune-readings and bind-runes
Time As A Water Cycle: Orlog and Wyrd; the three Norns
Ritual: Exploring how rituals can heal parts of ourselves and our greater community
The symbol that will guide our day will be the dragon. In ancient Northern Europe the dragon was a symbol for merging the underworld and upper-world. As the serpent descends into dark, difficult places to look for soul, the golden eagle ascends towards illumination to reveal spirit. When the serpent and golden eagle alchemically merge, the wisdom of the dragon is born. We will work and rediscover what it means to "descend," (soul), and to "ascend", (spirit), and get clear on the difference between these polarities.
"Andreas Kornevall offers a powerful immersive experience of travelling into Norse mythology and Runic divination, food for both soul and intellect. Understanding Runic script as mythic symbols opens a door into the archetypes that inform all human existence, and Andreas' deep knowledge and love for his subject is truly inspirational." - Professor Angela Voss, Christ Church University
All are welcome to join, regardless of experience and cultural/spiritual background: the spirit is warm and always enthusiastically inclusive.
Please note that you do not need to have previously attended a course with Andreas Kornevall to join this live, online workshop.
If you have a rune set, that would be great, but it is not essential. Also, you will learn how to create your own traditional rune set.

--

We will not be recording this workshop. One of the unique aspects of the College's online events is that they are highly interactive. Participants are encouraged to discuss and share with the tutor and the group. These sharings can be very personal, and some may not feel comfortable with them being recorded.
--

Previous participants say:
"Such an enjoyable, rich, and meaningful class. I had expected to find it fascinating but I did not realise how deeply it would touch me!"
"Andreas Kornevall is very knowledgable and it comes across in his teachings. He is able to put theory to practice and make it understandable."
"Presenter was knowledgeable, presentable and earnest."
"Andreas is a wonderful teacher who brings groundedness together with an 'appreciation of the mystery' to this beautiful and powerful work. He held a safe and sacred space within which we could work and play."

--

This workshop will be live in our online classroom
All you need to take part is a good internet connection and a computer with a webcam, microphone and Zoom.
On booking this workshop, you will receive an email with the Zoom link to access it. Remember to check your spam folder if you don't receive this confirmation email in your inbox.
Please send us a message if you have any questions. We hope you enjoy the workshop!
About Andreas Kornevall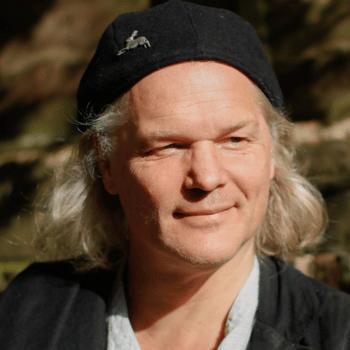 Swedish author & ecologist Andreas Kornevall has worked with BBC radio, archaeological society Sussex Past & learning centres across the UK to revive the ancient Pagan Anglo-Saxon Creation Myth.
Read more about Andreas
Register your interest
This workshop has already taken place, please register below and we'll let you know when it runs next.