During the witch-hunts, it was believed that the body of the witch had been marked by the Devil to seal their pact. 

In order to find this mark, which could be anything from a birthmark, wart, or scar, suspected witches were subjected to humiliating and torturous bodily examinations.
In the early twentieth century, Egyptologist and folklorist Margaret Murray's controversial yet highly popular witch-cult theory marked a radical departure from these ideas.
According to Murray, some body marks had been tattooed by the witches themselves, as a sign of their membership of a secret fertility cult.
This compelling lecture not only discusses the depiction and ownership of the body of the witch throughout the ages, but also traces the influences behind Murray's flawed yet persistent theory. 
It takes the audience on a bewitching journey, all the way from tattooed ancient Egyptian mummies to the court trials of 16th century French witches with hare footprints on their shoulders.
This lavishly illustrated livestream talk examines the transformation of the witch's body from the diabolic into the sacred sphere.

Definitely an evening not to miss.
--
This session will be recorded. A recording will be available for those who book.
--
Previous participants say:
"I loved it. Very informative, Alinda has really done some in depth research."
"Very well presented and interesting."
"Wonderful! An academic who really knows her stuff!! Interesting & thought provoking!"
"Very interesting and enjoyable lecture. Easy to access via Zoom."
--
This talk will be live in our online classroom
All you need to take part is a good internet connection and a computer with a webcam, microphone and Zoom.
On booking this talk, you will receive an email with the Zoom link to access it. Remember to check your spam folder if you don't receive this confirmation email in your inbox.
Please send us a message if you have any questions. We hope you enjoy the talk!
About Dr Alinda Damsma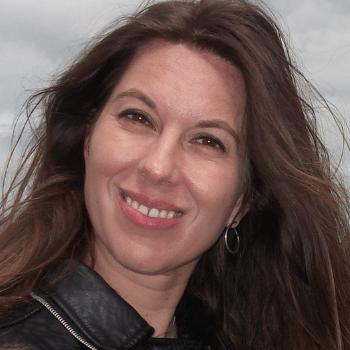 A lecturer in Biblical Hebrew at University College London, Dr Alinda Damsma's research interests include Jewish mysticism, and magic and witchcraft in biblical & post-biblical times.
Read more about Alinda
Buy Now
To secure your place on this talk click book now.
Price: £16.00
Become a member today and you will save £2.00 on this purchase. Find out more about membership.