Huddle close for a voyage into Norse music, poetry and myth, accompanied by plenty of convivial conversation. 
In this FREE online talk, Swedish storyteller and independent scholar of Norse mythology Andreas Kornevall welcomes you into the ancient tradition of the North through rousing stories, melodious poetry and captivating legends.
With song and fable, Andreas will show us how the wisdom of our Viking ancestors can help us navigate the most pressing issues of today. He'll introduce us to the great gods and goddesses of our elders, and to the deities of the land who continue to guide us.
So, dim the lights and settle in for an epic journey through the portal of the secret runes into the depths of your imagination in this free livestream talk.
--
This talk will be recorded. A link to the full video recording will be available for replay to all those who book.
--
Previous participants say:
"This was an exceptional evening offering real knowledge to be disseminated."
"Unfamiliar with these myths so very interesting and informative. So relaxing with the music, excellent."
"This was absolutely amazing, Andreas was a spellbinding myth teller, storyteller and musician, I was absolutely transported. Loved it. I hope to take his foundation course in February."
--
This talk will be live in our online classroom
All you need to take part is a good internet connection and a computer with a webcam, microphone and Zoom.
On booking this talk, you will receive an email with the Zoom link to access it. Remember to check your spam folder if you don't receive this confirmation email in your inbox.
Please send us a message if you have any questions. We hope you enjoy the talk!
About Andreas Kornevall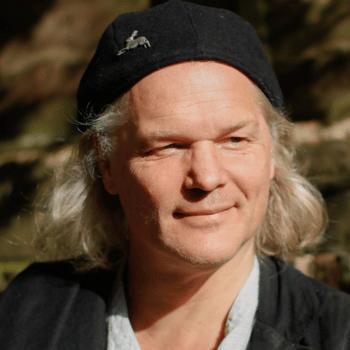 Swedish author & ecologist Andreas Kornevall has worked with BBC radio, archaeological society Sussex Past & learning centres across the UK to revive the ancient Pagan Anglo-Saxon Creation Myth.
Read more about Andreas
Register your interest
This talk has already taken place, please register below and we'll let you know when it runs next.