Join Andreas Kornevall for an immersive online journey into the rituals, runes, folklore, sagas and initiations of Norse mythology.
Please be aware that there will be no class on Thursday 17th February and Thursday 17th March.
This livestream eight-week course is for those with an interest in witchcraft, runes, alchemy, symbolism, Norse culture and Paganism.
Tune in with Andreas for a fascinating journey through the following topics:
Seidr (Norse Shamanism): An inner journey through the sacred tree, Yggdrasil
Magical talismans of the ancient world - what can we learn from them, how can we read them?
An introduction to the thousand-year history of the runes
Storytelling and techniques: stalking the mead of poetry, northern myth cycles
The runic mysteries and the sacred numbers of Mithras
Different rune scripts and rune rows across the ages
Finding the Northern lost star constellations
Working and reading with the runic scripts, what is an oracular language? How do we access it?
Runes: how to send, how to pray, how to bless
Ceremonies: The Blot Ritual and how to live a ceremonial life and the role of the Oracle in the Viking Society
Much of the material presented in this course has never been translated into English.
--

We will not be recording these classes. One of the unique aspects of the College's online courses is that they are highly interactive. Participants are encouraged to discuss and share with the tutor and the group. These sharings can be very personal, and some may not feel comfortable with them being recorded. If you need to miss any sessions, your tutor will be happy to offer a brief outline of the material covered.
--
Previous participants say:
"Andreas has a gift for storytelling, and for teasing deeper meanings out of things you thought you were already familiar with. His breadth and depth of this subject made for mesmerising evenings."
"There are teachers and there are practitioners. Andreas is both. Thanks to his competent and generous approach, this class was just what I was looking for, and more."
"Andreas gracefully and mysteriously wove a web of diverse threads into the magical tapestries of Norse cosmology, mythology and magic, revealing a new world of imagination for both spirit and soul. This was my first experience with Zoom in the context of a multi-week class like this, and I was surprised at how little this affected the quality of intimacy - as I experienced it - with the group. I feel fortunate to have found this class when I did and look forward to joining the intermediate course, gods willing, when the time comes."
"Andreas Kornevall offers a powerful immersive experience of travelling into Norse mythology and Runic divination, food for both soul and intellect. Understanding Runic script as mythic symbols opens a door into the archetypes that inform all human existence, and Andreas' deep knowledge and love for his subject is truly inspirational." - Professor Angela Voss, Christ Church University
--
Here's what to expect:
--
Important notice: The UK switches to British Summer Time on Sunday 27 March 2022. 
For our students in the UK, your digital clocks should adjust automatically. However, if you are joining from outside the UK, please double-check the start time of your final class in this course. You will need to log in an hour earlier than previously.
--
Course Schedule
There are 8 sessions for this course
| | | |
| --- | --- | --- |
| 1 | Thursday 3rd February 2022 | 7:00pm - 9:00pm |
| 2 | Thursday 10th February 2022 | 7:00pm - 9:00pm |
| 3 | Thursday 24th February 2022 | 7:00pm - 9:00pm |
| 4 | Thursday 3rd March 2022 | 7:00pm - 9:00pm |
| 5 | Thursday 10th March 2022 | 7:00pm - 9:00pm |
| 6 | Thursday 24th March 2022 | 7:00pm - 9:00pm |
| 7 | Thursday 31st March 2022 | 7:00pm - 9:00pm |
| 8 | Thursday 7th April 2022 | 7:00pm - 9:00pm |
This course will be live in our online classroom
All you need to take part is a good internet connection and a computer with a webcam, microphone and Zoom.
On booking this course, you will receive an email with the Zoom link to access it. Remember to check your spam folder if you don't receive this confirmation email in your inbox.
Please use the same link to access each of your course sessions.
Please send us a message if you have any questions. We hope you enjoy the course!
About Andreas Kornevall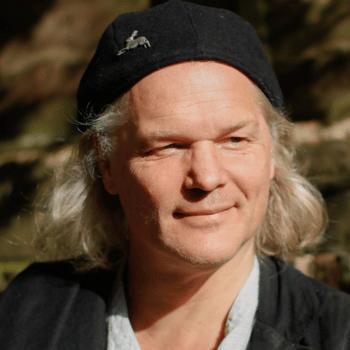 Swedish author & ecologist Andreas Kornevall has worked with BBC radio, archaeological society Sussex Past & learning centres across the UK to revive the ancient Pagan Anglo-Saxon Creation Myth.
Read more about Andreas
Register your interest
This course has already taken place, please register below and we'll let you know when it runs next.