Best for foundation level and above students, not complete beginners. Please have tarot or oracle cards to use during this workshop.
Come and join Maria and explore your intuitive abilities with a medley of fun exercises in this three-hour mini workshop.
You cannot be taught to be psychic; you are naturally psychic. The difference between a professional psychic and a novice is someone who has developed their skill so their gift can be utilised in a controlled environment. Whereas the beginner is learning to re-connect to their abilities or testing their gifts.
We will begin with a meditation and visualisation exercise to help you get into the zone. A still mind.
Through simple exercises you will begin to work with your psychic abilities. You will work in groups and in pairs giving readings. You will also develop and strengthen the three 'Clairs': clairvoyance, clairaudience and clairsentience, as well as working on a picture reading to help improve accuracy.
--
We will not be recording this workshop. One of the unique aspects of the College's online events is that they are highly interactive. Participants are encouraged to discuss and share with the tutor and the group. These sharings can be very personal, and some may not feel comfortable with them being recorded.
--
Previous participants say:
"I really enjoy Maria's classes and this is the 3rd one I have taken. I enjoy the practice I get and feedback from whom I work it. It helps me a lot and my confidence. I also like Maria's exercises to focus on our skills and her teaching. She creates calm and relaxed environment. I would take the next class too and highly recommend her to others. Great thanks!"
"Maria's meditations and feedback on the exercises were excellent and I really enjoyed working with the others who were so gifted! It is great that the workshop could be accessed online as I would not have been able to get to the college."
"Maria's workshops never fail to fulfil expectations and more! Excellent tutor, great group of people, thank you Maria :)"
--
This workshop will be live in our online classroom
All you need to take part is a good internet connection and a computer with a webcam, microphone and Zoom.
On booking this workshop, you will receive an email with the Zoom link to access it. Remember to check your spam folder if you don't receive this confirmation email in your inbox.
Please send us a message if you have any questions. We hope you enjoy the workshop!
About Maria Antoniou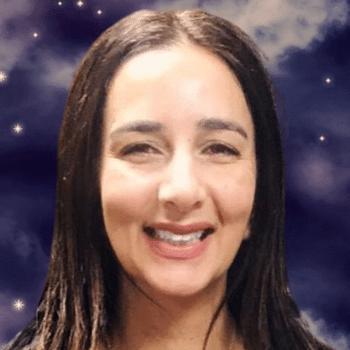 College Tutor Maria Antoniou was aware of her mediumistic abilities since an early age. She suppressed them for years, but eventually came to train at the College. She now teaches with us.
Read more about Maria
Register your interest
If you're interested in finding out more about this workshop, please register below and we'll be in touch with more information once available.