We are in the midst of a massive transition. Allow Sri Anish, joining us online from his base in the Himalayas, to give you the tools to navigate it successfully in this two-part workshop...
There is a huge transition happening on our planet at the moment. This transition is simultaneously affecting multiple layers of our existence: physical, mental, emotional, spiritual and psychic. We can call it a 'transition of consciousness'. 
You are probably experiencing the effects of this transition in one or more aspects of your life: personal relationships; career; mental wellbeing; physical health; and even the health of our planet.
Every transition of this scale needs special effort and preparation to not just deal with it, but to also evolve with it. It requires a deeply integrated approach of understanding and clarity, using specific tools and practices. We can learn much from ancient wisdom.
In this two-part workshop, Sri Anish teaches us two essential tools that can support us in gracefully navigating, and growing from, this transition. These tools offer us a precious opportunity for immense self-development right now. They are our keys to staying ahead of the time. 
We will dedicate each 3-hour session to mastering these two tools:
Session 1: The Magic of Attention
Are we aware of our attention?
Are we in control of our attention?
Do we know the power of our attention? 
Q&A, chanting and meditation 
Session 2: Protection & Healing
Why do we need protection and healing?
Levels of protection/healing – body, mind, psychic and spiritual?
How does our healing energy flow – from spiritual to physical?
The role of our attention in protection and healing
Q&A, chanting and meditation
Let's use these transitional times to blossom into our full potential.
Both sessions in this workshop provide a safe, supportive and empowering space in which you can learn and develop these tools to take into your daily life. All are welcome.
--
We will not be recording this workshop. One of the unique aspects of the College's online events is that they are highly interactive. Participants are encouraged to discuss and share with the tutor and the group. These sharings can be very personal, and some may not feel comfortable with them being recorded.

--
Previous participants say:
"Sri Anish gave beautiful and profound messages during this event. He interacted with us in a way that showed he really cared about our understanding of his words along with an interest and willingness to hear from us."
"Very lovely calm style, felt very profound."
"Hope with ALL of My heart that you will invite Sri Anish again!"
"This was the first time I have been available when Sri Anish has held an event at the college, so was delighted to be able to join, and it more than exceeded my expectations. More from him please!!"
--
Workshop Schedule
There are 2 sessions for this workshop
| | | |
| --- | --- | --- |
| 1 | Sunday 30th January 2022 | 1:00pm - 4:00pm |
| 2 | Sunday 6th February 2022 | 1:00pm - 4:00pm |
This workshop will be live in our online classroom
All you need to take part is a good internet connection and a computer with a webcam, microphone and Zoom.
On booking this workshop, you will receive an email with the Zoom link to access it. Remember to check your spam folder if you don't receive this confirmation email in your inbox.
Please use the same link to access each of your workshop sessions.
Please send us a message if you have any questions. We hope you enjoy the workshop!
About Sri Anish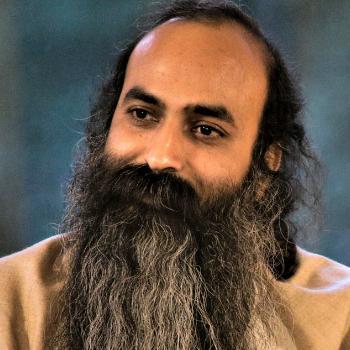 A mystic, spiritual teacher, international speaker and an author, Sri Anish has brought clarity and joyful intensity to the lives of many people. He lives in Dharamshala, India.
Read more about Sri Anish
Register your interest
This workshop has already taken place, please register below and we'll let you know when it runs next.