Hildegard of Bingen, a 12th-century mystic, was a remarkable and outspoken woman who rebelled against the patriarchy of the church and society. She asserted that God was both female and male — and that God existed in all of the Cosmos and in everything within it.
She was a writer, musician, artist, herbalist, feminist, healer, Benedictine abbess, reformer and prophet. Known as the Grandmother of Creation Mystics, Hildegard was a pioneer in many fields who paved the way for other women to succeed.
During a time when few women were accorded respect, Hildegard corresponded with emperors and popes, bishops and abbots, giving advice even when it was critical of their actions or lack of action.
At a time when few women wrote, Hildegard produced major works of theology and visionary writings and art and extraordinary music.
For centuries after her death, Hildegard was ignored and ridiculed. Today, she is now being recognised for the genius that she was and has been declared both a saint and a doctor of the church.
Hildegard implores all of us to live in integrity. She especially implores our leaders to wield their influence "wisely" and justly. She warns us of the consequences of the mistreatment and marginalizing of women, oppression of the poor and powerless, destruction of our environment, and the dangers of a patriarchal system run wild. But she also reminds us to sing, to dance, to be creative, to celebrate life, and to "wake up."
This fascinating evening will explore some of Hildegard's rich teaching and Matthew will also include a meditation on Hildegard's art. Matthew has written 3 books on Hildegard.
This talk will be live in our online classroom
All you need to take part is a good internet connection and a computer with a webcam, microphone and Zoom.
On booking this talk, you will receive an email with the Zoom link to access it. Remember to check your spam folder if you don't receive this confirmation email in your inbox.
Please send us a message if you have any questions. We hope you enjoy the talk!
About Matthew Fox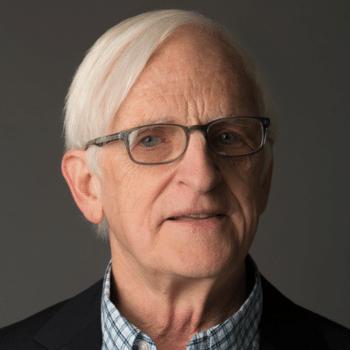 Theologian and spiritual activist Matthew Fox advocates a spirituality that includes Eastern spirituality, the Wisdom Tradition in the Hebrew Bible, and respect for the Earth and native traditions.
Read more about Matthew
Buy Now
To secure your place on this talk click book now.
Price: £16.00
Become a member today and you will save £2.00 on this purchase. Find out more about membership.