In this unique masterclass, streamed live from the Andean Mountains in Peru, renowned Shaman Puma Quispe Singona introduces us to the Apus - the Masters of Light. 
He shows us how we can call on these sacred energies for healing, guidance and protection.
The Apus are divine energies that inhabit the mountains and cosmos. They offer powerful healing, divine insights and helpful guidance when we know how to connect and work with them.
In this live, online three-hour masterclass you will experience how to:
Connect with the transformational energies of the Apus
Incorporate these powerful energies into your own personal altar, or Mesa
Call on the wisdom of our ancestors and receive their protection and healing
Puma will also teach you how to programme each month of the year, using ancient ancestral prayers, to manifest healing energy and abundance across time and space. He will explain the meaning of the Mesa and prayers, and share why they hold such power.

Trained by his grandfather, Don Maximo, from the age of 6, Puma has a love of sharing this deep wisdom for the good of all, his global family. This passion shines through in his teaching. 
Puma has been described as "magical, compassionate and wise beyond his years" with a deep reverence for Pachamama (Earth Mother) and an ancient understanding of the Cosmos. He is a gifted and generous teacher and shows how the ancient knowledge he has mastered, and is sharing with us, is so relevant to the new world we are creating together now.
What you will receive:
A three-hour masterclass with Puma, streamed live from the Andes 
A certificate of attendance
--
This masterclass will be recorded. Registered participants will be emailed with a link to the recording.

 --
Previous participants say:
"Fascinating and insightful. Quispe is very passionate about his culture and this makes his events very engaging."
"I really enjoyed it - would love to know even more about Andean shamanism. It was well paced, breaks etc. Enough time for questions. Puma is a lovely soul and his enthusiasm shines through."
"I enjoyed the class a lot and also learned quite a bit. Thank you Puma!"
"Puma was very engaging with an authentic loving nature. I really enjoyed the workshop, it was delivered with passion and really highlighted presence. and the cosmovision of the mother sun."
--

This event will be live in our online classroom
All you need to take part is a good internet connection and a computer with a webcam, microphone and Zoom.
On booking this event, you will receive an email with the Zoom link to access it. Remember to check your spam folder if you don't receive this confirmation email in your inbox.
Please send us a message if you have any questions. We hope you enjoy the event!
About Puma Quispe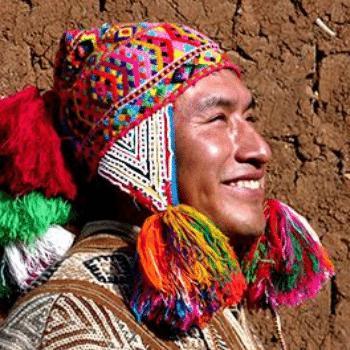 Fredy 'Puma' Quispe Singona has trained in Andean ceremonies and rituals since he was a young boy. He is a spiritual leader both internationally and in his own community of Chinchero.
Read more about Puma
Register your interest
This event has already taken place, please register below and we'll let you know when it runs next.