To surf these rapidly transitional, chaotic times with grace and ease, we must raise our vibrational energy. In this special three-part masterclass, Sri Anish joins us online from the Himalayas to teach us a powerful technique that does just that.

Life as we know it is a vibrational phenomenon. All the layers of our being - physical, mental, emotional, psychical and spiritual - are governed by vibrational energy. Therefore, it is important for us to raise our vibrational energy to the highest possible pitch. Not only does this maintain us in a state of peace and poise, it also creates a great shield of protection around us. Raising our vibrational energy is a vital skill in these times.
Through a decade of self-practice, Sri Anish has created the powerful yet safe technique of Namo Abhyasa to effectively raise our vibrational energy. This is a simple 30-minute formula that combines ancient yogic practices, breath work and chanting flow. It provides the maximum benefit in the safest, shortest possible time. Once received from Sri Anish, Namo Abhyasa is easy to incorporate into your daily life. 

This livestream masterclass is divided over two transformational teaching sessions, and ends with one 30-minute bonus check-in session:
Session 1: Raising Our Vibration
What hinders or lowers our vibrations?
How to raise our vibration
How to enhance our protection and expedite our healing
Introduction to the powerful practice of Namo Abhyasa
Q&A, chanting and meditation
Session 2: Namo Abhyasa

An initiation into Namo Abhyasa
An experience of how Namo Abhyasa works at various layers of our being
Q&A, chanting and meditation
Bonus Session 3: Namo Abhyasa check-in
Sri Anish will lead a 30-minute correction and Q&A class for the Namo Abhyasa practice on 17th March at 7pm-7.30pm UK time.
Sri Anish is a gifted teacher who shares his wisdom with deep compassion, warmth and integrity. We are delighted to offer this precious opportunity to learn with him via Zoom from his base in the Himalayan mountains. This masterclass welcomes everyone.
What you will receive:
Three transformational sessions with Sri Anish, streamed live from Dharamshala, home of His Holiness, the Dalai Lama
A link to the session recordings
A guided audio recording of Namo Abhyasa for your home practice
A certificate of attendance
--
Previous participants say:
"Really looked forward to our meetings with Sri Anish, such a beautiful connection with him - a lovely soul. Very wise and I found a lot of things just clicked."
"This was the best course ever! Sri Anish is an amazing and deeply profound teacher. I will recommend all to join his courses."
"Sri Anish was amazing, full of wisdom and such integrity. His words made perfect sense, I feel this course was a truly life-changing experience which I am so grateful for having had the opportunity to take part in. I hope Sri Anish will be invited back to the College soon."
--
This three-part masterclass consists of two teaching sessions on Thursdays 3rd & 10th March, 7-9pm UK time, and a bonus check-in session on Thursday 17th March, 7-7.30pm UK time. 
PLEASE NOTE, THE FINAL SESSION ON THURSDAY 17 MARCH IS 7-7.30PM UK TIME, NOT 7-9PM AS STATED IN THE TABLE BELOW.
Event Schedule
There are 3 sessions for this event
| | | |
| --- | --- | --- |
| 1 | Thursday 3rd March 2022 | 7:00pm - 9:00pm |
| 2 | Thursday 10th March 2022 | 7:00pm - 9:00pm |
| 3 | Thursday 17th March 2022 | 7:00pm - 9:00pm |
This event will be live in our online classroom
All you need to take part is a good internet connection and a computer with a webcam, microphone and Zoom.
On booking this event, you will receive an email with the Zoom link to access it. Remember to check your spam folder if you don't receive this confirmation email in your inbox.
Please use the same link to access each of your event sessions.
Please send us a message if you have any questions. We hope you enjoy the event!
About Sri Anish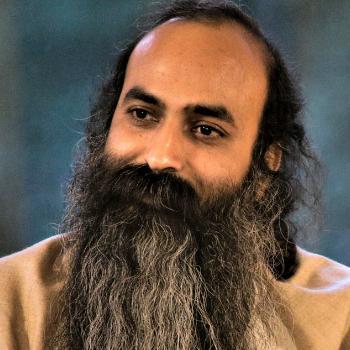 A mystic, spiritual teacher, international speaker and an author, Sri Anish has brought clarity and joyful intensity to the lives of many people. He lives in Dharamshala, India.
Read more about Sri Anish
Register your interest
This event has already taken place, please register below and we'll let you know when it runs next.