Modern medicine woman Annika Panotzki joins us live from her HQ in Stockholm to guide us through this powerful 2-part masterclass on chakra healing.
Our energy body, or light body, is connected to our physical body through energy points, or chakras. Each chakra represents different energies, emotions, physical organs and their functions. The light body carries information about how to build our body, our mind and our emotional body.
If something becomes imbalanced, either in this life, other timelines (past lives), or in our ancestral lines, it remains as an imprint. This imprint can either be active or dormant, and it attracts energy from our subconscious. It manifests in patterns, for example, in relationships, friendships, work or health.
In this livestream masterclass, Annika will show you how you can access your inner wisdom, offering you powerful tools to heal your body and spirit through the chakras. We all have that power to do so, and Annika will guide your way back to that power and back to your heart.
--
Session 1: Build your foundation and get your power back 
In this session, we will focus on your Root chakra and Sacral chakra. You will learn how to build a solid foundation for your energy base through your body temple, using tools like superfoods, nature and drum journeys. You will reawaken your intuition and discover tools to strengthen that superpower of yours. 
Annika will share different shamanic techniques as well as giving you an actionable plan to bring change into your everyday life. You'll learn how to usher in new energy through high-vibrational foods, uplifting thoughts and following your intuition. 
Session 1 includes:
Annika will share her journey on the shamanic path and her own healing.
A guided meditation into your Root and Sacral chakra.
A drum journey into your inner garden - the subconscious.
Processes to connect to your body and intuition.
We will talk about high-vibrational foods and superfoods for these chakras and your body.
Blessing your food.
Reconnecting to nature and the elements of Earth and Water.
A process on flow and what is stopping your flow in life and in your body.
Closing with a small ceremony to honour our body and Mother Earth.
--
Session 2: Awaken your joy, creativity, heart wisdom and true expression
Your time here on Earth is precious. With a healthy body and an uplifted spirit, you can truly live the way your soul is longing for. With this renewed energy, you can bring more joy, passion and presence to your everyday life. 
To be able to see the world through the eyes of your heart opens the magic of the simple things. It brings a deep gratitude and connection with everything around us. It gives you a freedom from within. So let us activate your upper chakras to uplift your spirit!
Session 2 includes:
A guided meditation into your Solarplexus, Heart chakra, Throat chakra, Third Eye and Crown Chakra to activate and remember your greatness.
A drum journey to connect to your soul's longing and open your heart.
We talk about superfoods for the upper chakras and plant medicine like Raw Cacao to open the Heart.
Annika will show how to make an easy superfood smoothie to make at home. 
You will also learn how you can make a ceremonial drink with Cacao. We also talk about an infusion for your throat.
You will discover a process to connect with your heart wisdom, and the practise of Gratefulness
Annika will share a 5-day reset and how you can activate your whole being with renewed energy.
Time for a Q&A. 
Closing with a full guided Chakra meditation with Sound healing.
--
You will receive:
Two powerful livestream masterclasses with Annika
Links to both video recordings 
A College certificate
Guidelines to continue working with your chakras at home
--
This 2-part masterclass will be recorded. Links to the video recordings will be available for replay to those who book. Please see our terms for more information.
--
Event Schedule
There are 2 sessions for this event
| | | |
| --- | --- | --- |
| 1 | Thursday 9th June 2022 | 6:00pm - 9:00pm |
| 2 | Thursday 16th June 2022 | 6:00pm - 9:00pm |
This event will be live in our online classroom
All you need to take part is a good internet connection and a computer with a webcam, microphone and Zoom.
On booking this event, you will receive an email with the Zoom link to access it. Remember to check your spam folder if you don't receive this confirmation email in your inbox.
Please use the same link to access each of your event sessions.
Please send us a message if you have any questions. We hope you enjoy the event!
About Annika Panotzki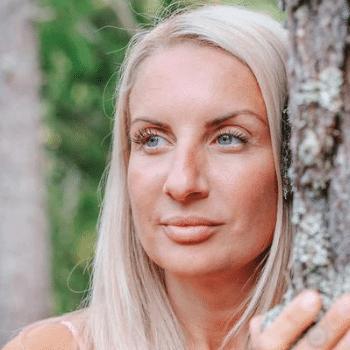 Stockholm-based Annika Panotzki is a modern medicine woman and author of The Chakra Cookbook. Her vision is to build bridges between Incan Shamanism and urban culture in the West.
Read more about Annika
Buy Now
To secure your place on this event click book now.
Price: £135.00
Become a member today and you will save £30.00 on this purchase. Find out more about membership.