The 22 cards forming the Tarot's major arcana have, for centuries, served as a visual oracle, an iconic and adaptable muse to seekers, artists, occultists, filmmakers, popstars, and high fashion, with influence stretching from the artworks of the Surrealists to TV's Twin Peaks.
Together, these powerful cards form a compendium of symbolic representations crystallising the hopes and fears of the western world, a reservoir of images with roots stretching back to Neoplatonism, the Black Plague of medieval Europe, profane folklore, and fin de siècle occultism.

Each card evokes and draws on powerful archetypes whose meanings have shifted over the centuries, adapting to new symbolic needs.
In these uncertain times, let's gather and playfully contemplate six centuries of historical cards, losing ourselves in their beauty, and trying to understand through the lens of art and historical context why these images continue to fascinate and inspire us today.
In this five-week livestream course, Laetitia will guide you to examine each card of the major arcana, one by one. You will be introduced to a rich variety of cards dating from the 15th Century to the present. Together, we will unpack their history and symbolism, with an eye towards investigating the archetypal ideas that animate these powerful images.
You will be given weekly assignments in the form of parlour games and journaling prompts.
For the final project, you will create your own revisioning of a card of the major arcana, or a new major arcana of your own creation. This could take the form of any work of art in any medium.
You will leave class with a deep, intimate knowledge of the Tarot's major arcana to take with them in future readings and tarot investigations.
Profile photo: Shannon Taggart
--
These classes will be recorded. A link to the video recordings will be available for replay to those who book. Please see our terms for more information.
--

Course Schedule
There are 5 sessions for this course
| | | |
| --- | --- | --- |
| 1 | Tuesday 18th October 2022 | 7:00pm - 9:00pm |
| 2 | Tuesday 25th October 2022 | 7:00pm - 9:00pm |
| 3 | Tuesday 1st November 2022 | 7:00pm - 9:00pm |
| 4 | Tuesday 8th November 2022 | 7:00pm - 9:00pm |
| 5 | Tuesday 15th November 2022 | 7:00pm - 9:00pm |
This course will be live in our online classroom
All you need to take part is a good internet connection and a computer with a webcam, microphone and Zoom.
On booking this course, you will receive an email with the Zoom link to access it. Remember to check your spam folder if you don't receive this confirmation email in your inbox.
Please use the same link to access each of your course sessions.
Please send us a message if you have any questions. We hope you enjoy the course!
About Laetitia Barbier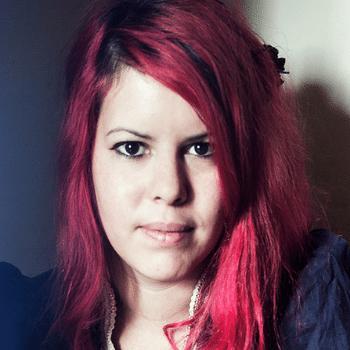 Cartomancy enthusiast Laetitia Barbier has nurtured a fascination with the tarot since she was 11. She is the programming director and head librarian of Morbid Anatomy in New York.
Read more about Laetitia
Buy Now
To secure your place on this course click book now.
Price: £140.00
Become a member today and you will save £30.00 on this purchase. Find out more about membership.