This 10-week livestream foundation course is for all who wish to walk the path of a psychic medium. You will develop your spirituality, strengthen your intuition, and essentially, discover who you really are.
Join Daniel to take a deep dive into your true essence in this livestream course. You'll be accompanied by a group of like-minded, like-hearted friends - a soul family - and will leave this course with a deeper understanding of your immense potential.
Week 1: Affirmations of your Soul
BEING with all that you are and getting to know the energy and anatomy of your 'being' is the most useful starting place in your development. Feeling the difference between your Spirit and your Soul, the energetic layers that make all of you, and exploring their qualities and what they reveal to you can help you to understand what you are offering the spirit world and the universe. We will also mirror this practice and learn to use our awareness by looking at each other's energies.
Week 2: The Guiding Force
What is the power that is guiding us? Is it an inner wisdom from a life we once walked? Is it a discarnate consciousness that desires to help us? Or is it both? Finding our Guide and allowing these guiding forces to move, inspire and teach us, and offering our awareness of this force to help others can be useful, profound and often very healing
Week 3: Feelings of the Spirit
This week will involve empathy - how we sense another person's emotions - and what they reveal. We will explore how to read another person's emotions and understand the importance of empathy in your psychic practice
Week 4: Clairvoyance... To see clearly
This week we will explore all things clairvoyant in nature within the spirit world.
Week 5: Remote Viewing
This week we will explore and learn how to use your awareness to read places, Homes, Places of Work, Places with memories, we will explore the usefulness knowing about environments and atmospheres and the information that it holds to understand situations, memories etc how to use your awareness to see, hear and know.
Week 6: Colour week
How it can move and affect you within the psychic and mediumistic experience.
Week 7: The Auragraph
Useful Auragraphs - being creative using colour and symbols for readings.
Week 8: Cards & Symbols
All things tarot, angel cards and divination cards: how to use symbols and colours to focus and help guide.
Week 9: Object week
Tuning into an object's presence and psychically knowing its story and significance to the owner.
Week 10: Final insights & questions
Daniel will work for the class giving his own insights and will offer a mini reading with Q&As.
The course will be a mixture of lectures, discussions and plenty of physical practice. Each week you will have time and space to sit in the presence of those you know and love in the other world.
Daniel reserves the right to change the content of the course sometimes, based on the guidance of the spirit world and those who attend.
--

Entry requirements
This course is open to those who have completed any Beginner course and/or Foundation course at the College. 
Those who are confident in the basics of spiritual practice are welcome to join.
If you are unsure if this course level is right for you, please read this article.
--

We will not be recording these classes. One of the unique aspects of the College's online courses is that they are highly interactive. Participants are encouraged to discuss and share with the tutor and the group. These sharings can be very personal, and some may not feel comfortable with them being recorded. If you need to miss any sessions, your tutor will be happy to offer a brief outline of the material covered.
--
Previous participants say:
"Dan was an excellent teacher. This was my first ever course in this area and I was made to feel very welcome and very comfortable. I had a fantastic experience."
"Daniel is absolutely amazing. He is a kind teacher, who is positive, reinforces and builds confidence of his students. I have learned so much from him and want to thank him for his help."
"Daniel Pitt was absolutely fabulous. I thoroughly enjoyed the course and his very appealing presence. He has a very spiritual view of mediumship that I was particularly struck by (in a very good way:). He's a great teacher!"
"Dan's class was excellent. The course content was interesting and as advertised. I really enjoyed the spiritual content as I feel this is missing from a lot of psychic/mediumistic teaching. Dan "gives his all" to his students. He's happy to respond to messages sent during the week and begins each session with "Any Questions?". He makes his students feel welcome and comfortable. His feedback on our efforts is encouraging and instructive. I have mentioned how much I enjoyed this course to friends so I do hope you put it on again."

--

Important notice: The UK switches to Greenwich Mean Time on Sunday 30 October 2022.
For our students in the UK, your digital clocks should adjust automatically. However, if you are joining from outside the UK, please double-check the start time of your classes after 30 October. Your class will start an hour later than previously.
Course Schedule
There are 10 sessions for this course
| | | |
| --- | --- | --- |
| 1 | Wednesday 21st September 2022 | 4:00pm - 6:00pm |
| 2 | Wednesday 28th September 2022 | 4:00pm - 6:00pm |
| 3 | Wednesday 5th October 2022 | 4:00pm - 6:00pm |
| 4 | Wednesday 12th October 2022 | 4:00pm - 6:00pm |
| 5 | Wednesday 19th October 2022 | 4:00pm - 6:00pm |
| 6 | Wednesday 26th October 2022 | 4:00pm - 6:00pm |
| 7 | Wednesday 2nd November 2022 | 4:00pm - 6:00pm |
| 8 | Wednesday 9th November 2022 | 4:00pm - 6:00pm |
| 9 | Wednesday 16th November 2022 | 4:00pm - 6:00pm |
| 10 | Wednesday 23rd November 2022 | 4:00pm - 6:00pm |
This course will be live in our online classroom
All you need to take part is a good internet connection and a computer with a webcam, microphone and Zoom.
On booking this course, you will receive an email with the Zoom link to access it. Remember to check your spam folder if you don't receive this confirmation email in your inbox.
Please use the same link to access each of your course sessions.
Please send us a message if you have any questions. We hope you enjoy the course!
About Daniel Pitt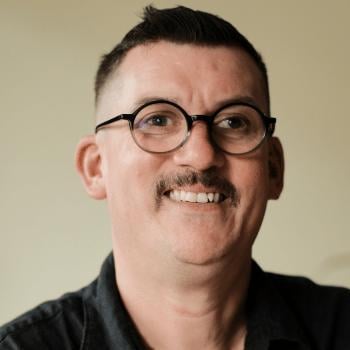 Daniel Pitt first awakened to his psychic abilities aged 11. After more than 20 years of exploring the spirit world, he is keen to help others feel the magic of how spirit can change and enhance their life.
Read more about Daniel
Buy Now
To secure your place on this course click book now.
Price: £240.00
Become a member today and you will save £30.00 on this purchase. Find out more about membership.