For students ready to polish their psychic skills, this 10-week online course is your ideal next step.
If you have completed the Simply Psychic Intermediate course, or have a strong working relationship with your psychic abilities, you are invited to join Geoffrey to step into your full potential as a psychic. 
During this course, we will work on:
Further developing and enhancing your own unique way of working with Spirit through your clairsentience, clairaudience, clairvoyance and claircognizance
Further deepen your relationship with yourself through your own intuitive understanding
Giving real meaning to what is being communicated by bringing through as much detail as possible
Developing the art of clear communication and why that matters
Creating a harmonious connection with the sitter and understanding how that connection contributes to a memorable reading
Knowing what is expected when asking for psychic information and deepening your understanding for allowing more sensitive interpretations of that information
Having the skill to bring through more comprehensive information from Spirit and communicating that information more skilfully, bringing real understanding and comfort for the sitter
Understand your relationship with the sitter when giving a reading by developing excellent observational and listening skills
Creatively explore the use of oracle cards, objects, images etc to enhance your psychic ability
But the true measure of your psychic ability is the ability to intuit information purely through your psychic senses as this establishes the deepest trust with the voice of your intuition and that is truly the way it should be
--

Entry requirements
Simply Psychic Advanced is the next step for those who have completed Simply Psychic Intermediate.
This course is also open to those who have completed any Intermediate course and/or Advanced course at the College.
Those who have trained elsewhere, and who are proficient and confident in their psychic mediumship abilities are welcome.
If you are unsure if this course level is right for you, please read this article.
--
We will not be recording these classes. One of the unique aspects of the College's online courses is that they are highly interactive. Participants are encouraged to discuss and share with the tutor and the group. These sharings can be very personal, and some may not feel comfortable with them being recorded. If you need to miss any sessions, your tutor will be happy to offer a brief outline of the material covered.
--
Previous participants say: 
"Geoffrey is an amazing teacher. I have taken many classes with him and always will." 
"He is a really special teacher and holds great space and support for students to thrive and learn. I highly recommend him to others."
"Every time I do something with Geoffrey, it is so amazing for me, I really feel I can open myself deeper and feel at home. He is so kind and his sense of humour gets out the best of me."

--
Important notice: The UK switches to British Summer Time on Sunday 27 March 2022.
For our students in the UK, your digital clocks should adjust automatically. However, if you are joining from outside the UK, please double-check your time zone with the start time of the final two classes in this course. You will need to log in an hour earlier than previously.
Course Schedule
There are 10 sessions for this course
| | | |
| --- | --- | --- |
| 1 | Tuesday 1st February 2022 | 2:30pm - 4:30pm |
| 2 | Tuesday 8th February 2022 | 2:30pm - 4:30pm |
| 3 | Tuesday 15th February 2022 | 2:30pm - 4:30pm |
| 4 | Tuesday 22nd February 2022 | 2:30pm - 4:30pm |
| 5 | Tuesday 1st March 2022 | 2:30pm - 4:30pm |
| 6 | Tuesday 8th March 2022 | 2:30pm - 4:30pm |
| 7 | Tuesday 15th March 2022 | 2:30pm - 4:30pm |
| 8 | Tuesday 22nd March 2022 | 2:30pm - 4:30pm |
| 9 | Tuesday 5th April 2022 | 2:30pm - 4:30pm |
| 10 | Tuesday 12th April 2022 | 2:30pm - 4:30pm |
This course will be live in our online classroom
All you need to take part is a good internet connection and a computer with a webcam, microphone and Zoom.
On booking this course, you will receive an email with the Zoom link to access it. Remember to check your spam folder if you don't receive this confirmation email in your inbox.
Please use the same link to access each of your course sessions.
Please send us a message if you have any questions. We hope you enjoy the course!
About Geoffrey Beitz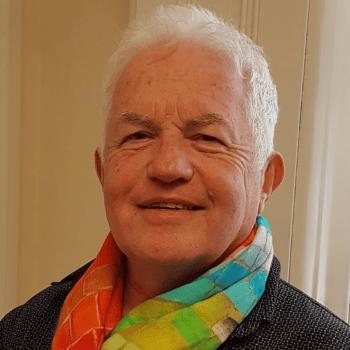 Geoffrey Beitz bought his first tarot deck in 1973, and the rest is history! He studied under the guidance of Gerrie March at the College and now teaches mediumship and psychic development .
Read more about Geoffrey
Register your interest
This course has already taken place, please register below and we'll let you know when it runs next.