This 10-week online course is ideal for those aspiring towards a professional standard of psychic mediumship.
This is a course that's tailored towards strengthening your link to the spirit world. We will seek new avenues to expand the evidence you bring forward.
We will also work towards a naturalness and flow within your readings, whether psychic, mediumistic or channelled information through your guide.
Strengthening the link with your guides will enhance your connection, creating a powerful conduit between you and the spirit world.
Join us to take your psychic mediumship practice to new levels of accuracy and perception.
--

Entry requirements
The Advanced Psychic Medium is the next step for those who have completed The Intermediate Psychic Medium.
This course is also open to those who have completed any Intermediate course and/or Advanced course at the College.
Those who have trained elsewhere, and who are proficient and confident in their psychic mediumship abilities are welcome.
If you are unsure if this course level is right for you, please read this article.
--
We will not be recording these classes. One of the unique aspects of the College's online courses is that they are highly interactive. Participants are encouraged to discuss and share with the tutor and the group. These sharings can be very personal, and some may not feel comfortable with them being recorded. If you need to miss any sessions, your tutor will be happy to offer a brief outline of the material covered.
--
Previous participants say:
"Maria's course was excellent - she is always inclusive and encourages participation. She gives advice and guidance and provides a safe and caring environment for all of us to practice."
"It was a lovely class, and made me feel comfortable and very welcome. Thank you very much Maria for helping me towards heightened connections with my guides and loved ones in spirit."
"Maria is a wonderful teacher. She has helped me build my confidence to be a medium. She has allowed me to flourish and this has given me much joy to assist others through spirit. Mediumship has removed my fear of passing and has allowed me to become more confident in my intuition."

--

Important notice: The UK switches to Greenwich Mean Time on Sunday 30 October 2022.
For our students in the UK, your digital clocks should adjust automatically. However, if you are joining from outside the UK, please double-check the start time of your classes after 30 October. Your class will start an hour later than previously.
Course Schedule
There are 10 sessions for this course
| | | |
| --- | --- | --- |
| 1 | Wednesday 21st September 2022 | 7:00pm - 9:00pm |
| 2 | Wednesday 28th September 2022 | 7:00pm - 9:00pm |
| 3 | Wednesday 5th October 2022 | 7:00pm - 9:00pm |
| 4 | Wednesday 12th October 2022 | 7:00pm - 9:00pm |
| 5 | Wednesday 19th October 2022 | 7:00pm - 9:00pm |
| 6 | Wednesday 26th October 2022 | 7:00pm - 9:00pm |
| 7 | Wednesday 2nd November 2022 | 7:00pm - 9:00pm |
| 8 | Wednesday 9th November 2022 | 7:00pm - 9:00pm |
| 9 | Wednesday 16th November 2022 | 7:00pm - 9:00pm |
| 10 | Wednesday 23rd November 2022 | 7:00pm - 9:00pm |
This course will be live in our online classroom
All you need to take part is a good internet connection and a computer with a webcam, microphone and Zoom.
On booking this course, you will receive an email with the Zoom link to access it. Remember to check your spam folder if you don't receive this confirmation email in your inbox.
Please use the same link to access each of your course sessions.
Please send us a message if you have any questions. We hope you enjoy the course!
About Maria Antoniou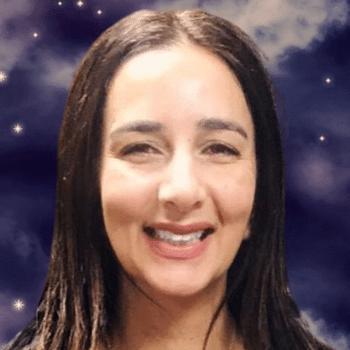 College Tutor Maria Antoniou was aware of her mediumistic abilities since an early age. She suppressed them for years, but eventually came to train at the College. She now teaches with us.
Read more about Maria
Buy Now
To secure your place on this course click book now.
Price: £265.00
Become a member today and you will save £35.00 on this purchase. Find out more about membership.