Have you heard of lenormand cards? They are a form of card divination which is accessible, practical and very profound. Learn how to read the lenormand cards in this in-depth online course...
In this course, you will be introduced to the 36 Lenormand cards. Each lenormand card has a symbol we can relate to, such as the tree, the fox and the moon. Geoffrey will guide you to start building up a vocabulary of meanings for each card, which will give you a strong foundation for when you move on to interpreting the cards to give messages.
There are many beautiful lenormand decks available. You are invited to work with any deck that resonates with you. If you are unsure, Laura Tuan's Lenormand Oracle is a good place to start!
Throughout this course, you will get to know your cards and use them for simple one card spreads to give meaning to any question you ask. You'll then move onto the two card spread which is fundamental to reading lenormand cards.
We will build up to more complex spreads and in the last class Geoffrey will demonstrate the ultimate lenormand spread, the Grand Tableaux, which uses all 36 cards in the deck.
Want to know a little more about this punchy little deck? Read our Lenormand Card article.

--

Entry requirements

This course is open to all.
It is useful for tarot readers who would like to add another dimension to their work. 
Please have a deck of lenormand cards with you (for inspiration: our pick of the best lenormand cards).
--
We will not be recording these classes. One of the unique aspects of the College's online courses is that they are highly interactive. Participants are encouraged to discuss and share with the tutor and the group. These sharings can be very personal, and some may not feel comfortable with them being recorded. If you need to miss any sessions, your tutor will be happy to offer a brief outline of the material covered.
--
Previous participants say:
"This course worked well online. I would not have been able to attend the college in person. Geoffrey is a good teacher - knowledgeable, kind, encouraging, a good sense of fun, so it was a most enjoyable course."
"Geoffrey is lovely, very knowledgeable, I appreciated his insights and all the teaching involved.... I would certainly do the next level with him."
"Was just what I needed – a general introduction to each of the cards, different ways to read cards together, then an introduction to some basic spreads. And most importantly, time to practice readings in pairs/trios. Teacher was always prompt and answered any queries any of us had."
"Geoffrey is a great teacher and put me at ease straight away, he is friendly, genuine and knows everything Lenormand! The course was just what i was hoping for and more."

--
Important notice: The UK switches to Greenwich Mean Time on Sunday 30 October 2022.
For our students in the UK, your digital clocks should adjust automatically. However, if you are joining from outside the UK, please double-check the start time of your classes after 30 October. Your class will start an hour later than previously.

Course Schedule
There are 10 sessions for this course
| | | |
| --- | --- | --- |
| 1 | Thursday 22nd September 2022 | 7:00pm - 9:00pm |
| 2 | Thursday 29th September 2022 | 7:00pm - 9:00pm |
| 3 | Thursday 6th October 2022 | 7:00pm - 9:00pm |
| 4 | Thursday 13th October 2022 | 7:00pm - 9:00pm |
| 5 | Thursday 20th October 2022 | 7:00pm - 9:00pm |
| 6 | Thursday 27th October 2022 | 7:00pm - 9:00pm |
| 7 | Thursday 3rd November 2022 | 7:00pm - 9:00pm |
| 8 | Thursday 10th November 2022 | 7:00pm - 9:00pm |
| 9 | Thursday 17th November 2022 | 7:00pm - 9:00pm |
| 10 | Thursday 24th November 2022 | 7:00pm - 9:00pm |
This course will be live in our online classroom
All you need to take part is a good internet connection and a computer with a webcam, microphone and Zoom.
On booking this course, you will receive an email with the Zoom link to access it. Remember to check your spam folder if you don't receive this confirmation email in your inbox.
Please use the same link to access each of your course sessions.
Please send us a message if you have any questions. We hope you enjoy the course!
About Geoffrey Beitz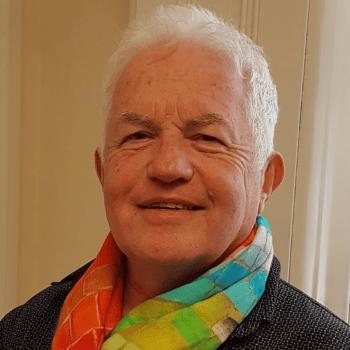 Geoffrey Beitz bought his first tarot deck in 1973, and the rest is history! He studied under the guidance of Gerrie March at the College and now teaches mediumship and psychic development .
Read more about Geoffrey
Buy Now
To secure your place on this course click book now.
Price: £240.00
Become a member today and you will save £30.00 on this purchase. Find out more about membership.