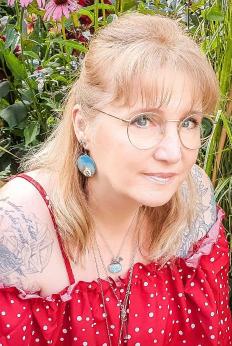 Rachel Patterson is a Witch, High Priestess of the Kitchen Witch Coven and Elder of the Kitchen Witch Online School of Witchcraft. 
As an author, Rachel has had over twenty books published on various subjects within the Witchcraft genre. A regular speaker at Pagan events across the country you will also find Rachel's articles in magazines such as Fate & Fortune and Pagan Dawn. 
Following a Pagan Witchcraft pathway for over 30 years she is a Kitchen Witch with a splash of Hedge Witch and Folk Magic. 
She likes to eat cake.
Coming up with Rachel Patterson
Rachel Patterson

Talks

Open to all

Discover how aligning with the Moon's rhythms can add real power to your magical and spiritual practice in this livestream talk.

Rachel Patterson

Workshops

Open to all

Discover how working with the Moon's energies through rituals, crystals and magic can enhance your life in this livestream workshop.
See our full What's On Calendar