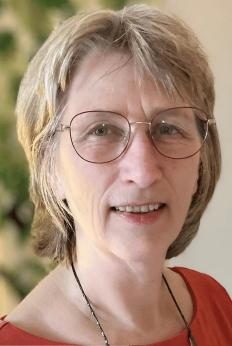 Doe Warnes RSME/T, FwSS, ITEC, is a Somatic movement educator/therapist, Shiatsu practitioner and anatomy and physiology tutor. She has been practising a wide range of therapeutic body and movement therapies for the last 40 years.
Doe teaches holistic approaches to anatomy and physiology, the Chinese five elements, Mindful movement in the landscape and several bodywork practices. She teaches on professional therapeutic trainings within Further and Higher Education, the Voluntary Sector and privately. Doe has taught extensively in London, throughout e United Kingdom and Eastern Europe.
Her view of the human body is through the lens of the scientific, energetic, physical, emotional, psychological and spiritual. Her 'body/mind' method has developed though many years experience as an energetic, hands-on practitioner. She integrates this with her knowledge of western anatomy and physiology and Chinese Medicine to bring an expansive and grounded approach to her work.
Doe is passionate in supporting individuals to:
· create a meaningful connection with themselves, others and nature
· bring relief from symptoms
· bring a greater sense of integration and wholeness
· improve physical, mental and emotional well-being
She does this by raising self-awareness and body awareness to facilitate access to the wisdom of their body (often through symptoms) and to align oneself with one's true values and purpose.
Doe continues her studies of the human being with endless curiosity and fascination.
Doe Warnes is a registered member of ISMETA (International Somatic Movement Education and Therapy Association) and the Shiatsu Society.

Coming up with Doe Warnes
Doe Warnes

Workshops

Open to all

In this fourth module in a series of five interdependent online workshops, we will learn about the nervous and endocrine systems.

Doe Warnes

Workshops

Open to all

In this fifth of five online interdependent anatomy and physiology workshops, we will take a holistic approach to studying the fluids of the body.

Doe Warnes

Workshops

Open to all

A fascinating livestream foray into an ancient Eastern energy system that brings harmony to our life.
See our full What's On Calendar