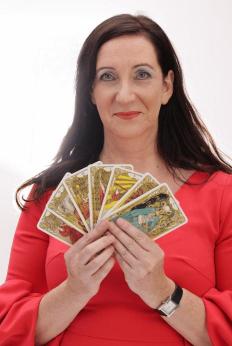 College Probationer Amanda Watson provides consultations which are intuitive and insightful to allow clients to gain clarity and perspective on issues of the mind, heart, body and soul. Amanda believes tarot to be a gateway for understanding and reflecting on life in order to move forward in a positive way.

Amanda has always had a sixth sense and intuitive nature and decided to nurture this further by beginning her training in tarot at CPS from 2015 under the guidance of Avril Price. She completed the Foundation, Intermediate and Advanced training as well as several workshops before finally completing the Tarot Professional Excellence course to embark on her journey as a professional tarot reader. Amanda also has experience of psychic mediumship which she brings in alongside the tarot reading to give clients the full spiritual experience.
Amanda advocates a safe, warm, confidential and non-judgemental space for readings to allow clients to be authentic and express their thoughts and feelings freely and without reservation. Amanda likes to provide wisdom and insight in exploration of issues whether they be past and/or present. Amanda aims to steer clients in establishing fortitude in the face of adversity in order to lead the best life possible.
Amanda has also had training on other courses to include: Psychic Mediumship, Astrology, Palmistry, Numerology, Scrying, Psychometry and Trance Mediumship to give her a well rounded education in the esoteric world.
Amanda is currently a Psychotherapist and Counsellor specialising in Psychosexual and Relationship issues. Amanda also has 25 years experience working in education as a Teacher and Manager in schools, TEFL teacher in the UK and abroad and as an Education Consultant in a Local Authority.