This 10-week online course focuses purely on your psychic development.

In the supportive, safe space of this course, you will activate and develop your innate psychic abilities. This course gives you all the tools you need to grow your intuitive gifts in a safe and grounded way. 
You will learn to:
Access and begin to understand your psychic ability
Meditate to enhance your psychic development
Ground yourself, understanding protection and why it matters
The importance of opening up to work psychically
The importance of closing down after working psychically
Understand clairsentience, clairaudience and clairvoyance
Understand the way you receive psychic information
Know what to expect when asking for psychic information
Interpret psychic information
What symbolic information means and how to interpret it
The purpose of psychic development
Use oracle cards and personal items such as jewellery as a focus
Do small readings for yourself and others
Ethics and the responsibility of sharing psychic information
Build up confidence in your psychic abilities
This course is a journey of awakening. It will help you to develop your psychic abilities which can further enhance your own life and the wellbeing of others.

--
Entry requirements
Simply Psychic Foundation is the next step for those who have completed a Beginner course and/or Foundation course at the College.
Those who are confident in the basics of spiritual practice are welcome to join.
If you are unsure if this course level is right for you, please read this article.
--
We will not be recording these classes. One of the unique aspects of the College's online courses is that they are highly interactive. Participants are encouraged to discuss and share with the tutor and the group. These sharings can be very personal, and some may not feel comfortable with them being recorded. If you need to miss any sessions, your tutor will be happy to offer a brief outline of the material covered.
--
Previous participants say:
"It surpassed my expectations and the group gelled so well even though we were meeting from many corners of the globe."
"Geoffrey has a really supportive style, is very insightful and able to work with a variety of levels in one group. I really enjoyed the group too - such a fabulous diverse group of people."
"Geoffrey Beitz is a wonderfully generous teacher. He is encouraging and supportive wherever we are in our lives and our psychic development. I can't wait to take more of his classes."
"I love Geoffrey and his teaching style. My wife referred me to him after she took some of his classes and really glad I did too. I felt I gained a lot more confidence and received a lot of practice. I signed up to take the same course to go deeper and for more practice. I will keep on with Geoffrey each term for his new courses in general."

--

Important notice: The UK switches to Greenwich Mean Time on Sunday 30 October 2022.
For our students in the UK, your digital clocks should adjust automatically. However, if you are joining from outside the UK, please double-check the start time of your classes after 30 October. Your class will start an hour later than previously.

Course Schedule
There are 10 sessions for this course
| | | |
| --- | --- | --- |
| 1 | Friday 23rd September 2022 | 2:00pm - 4:00pm |
| 2 | Friday 30th September 2022 | 2:00pm - 4:00pm |
| 3 | Friday 7th October 2022 | 2:00pm - 4:00pm |
| 4 | Friday 14th October 2022 | 2:00pm - 4:00pm |
| 5 | Friday 21st October 2022 | 2:00pm - 4:00pm |
| 6 | Friday 28th October 2022 | 2:00pm - 4:00pm |
| 7 | Friday 4th November 2022 | 2:00pm - 4:00pm |
| 8 | Friday 11th November 2022 | 2:00pm - 4:00pm |
| 9 | Friday 18th November 2022 | 2:00pm - 4:00pm |
| 10 | Friday 25th November 2022 | 2:00pm - 4:00pm |
This course will be live in our online classroom
All you need to take part is a good internet connection and a computer with a webcam, microphone and Zoom.
On booking this course, you will receive an email with the Zoom link to access it. Remember to check your spam folder if you don't receive this confirmation email in your inbox.
Please use the same link to access each of your course sessions.
Please send us a message if you have any questions. We hope you enjoy the course!
About Geoffrey Beitz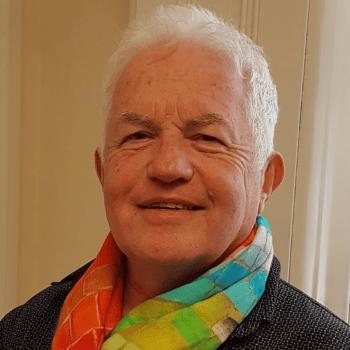 Geoffrey Beitz bought his first tarot deck in 1973, and the rest is history! He studied under the guidance of Gerrie March at the College and now teaches mediumship and psychic development .
Read more about Geoffrey
Buy Now
To secure your place on this course click book now.
Price: £240.00
Become a member today and you will save £30.00 on this purchase. Find out more about membership.