PLACES ON THIS COURSE ARE BEING ALLOCATED AND THE COLLEGE WILL ADVISE STUDENTS, BY EMAIL, IF YOU HAVE BEEN GIVEN A PLACE.
THE SPACES SHOWN AS AVAILABLE ON OUR WEBSITE FOR THIS COURSE, WILL BE TAKEN BY STUDENTS WITH COLLEGE CONFIRMED BOOKING EMAILS.
PLEASE DO NOT BOOK ON THIS COURSE IF YOU HAVE NOT RECEIVED A CONFIRMATION FROM THE COLLEGE, AS YOUR BOOKING WILL BE CANCELLED AND MONIES PAID RETURNED.
Suitable for Intermediate level students and above.
Come and weave Celtic wisdom with spirituality into your life by connecting to the power and energy of the natural world.
We will look at Celtic festivals as our oldest surviving link to the ancient wisdom of our ancestors who were in tune with the cycles of nature.
Using meditation, imagery and working intuitively with these seasonal celebrations we can enhance our psychic and mediumistic skills helping us to remember who we are.
Each time we connect to this gift we are able to re-establish a sense of unity within us; a creative force not visible but always present in all things.
This course aims to give you an insight into the possibilities that come with a life lived in tune with the seasons and a heart open to spirit.
--
We will not be recording these classes. One of the unique aspects of the College's online courses is that they are highly interactive. Participants are encouraged to discuss and share with the tutor and the group. These sharings can be very personal, and some may not feel comfortable with them being recorded. If you need to miss any sessions, your tutor will be happy to offer a brief outline of the material covered.
--
Previous participants say:
"Gary is as wonderful and supportive as ever - I am truly grateful for his guidance."
"Another amazing term with Gary Wright. He is a great teacher and shares his gift so well, my confidence in mediumship had gone from strength to strength, thanks to Gary. The Zoom lessons have worked very well."
"Gary is a very warm and welcoming tutor. Very good at keeping the class together and working nicely. Always a pleasure to join. Looking forward to continuing."
--

Course Schedule
There are 10 sessions for this course
| | | |
| --- | --- | --- |
| 1 | Saturday 22nd January 2022 | 11:00am - 1:00pm |
| 2 | Saturday 29th January 2022 | 11:00am - 1:00pm |
| 3 | Saturday 5th February 2022 | 11:00am - 1:00pm |
| 4 | Saturday 12th February 2022 | 11:00am - 1:00pm |
| 5 | Saturday 19th February 2022 | 11:00am - 1:00pm |
| 6 | Saturday 26th February 2022 | 11:00am - 1:00pm |
| 7 | Saturday 5th March 2022 | 11:00am - 1:00pm |
| 8 | Saturday 12th March 2022 | 11:00am - 1:00pm |
| 9 | Saturday 19th March 2022 | 11:00am - 1:00pm |
| 10 | Saturday 26th March 2022 | 11:00am - 1:00pm |
This course will be live in our online classroom
All you need to take part is a good internet connection and a computer with a webcam, microphone and Zoom.
On booking this course, you will receive an email with the Zoom link to access it. Remember to check your spam folder if you don't receive this confirmation email in your inbox.
Please use the same link to access each of your course sessions.
Please send us a message if you have any questions. We hope you enjoy the course!
About Gary Wright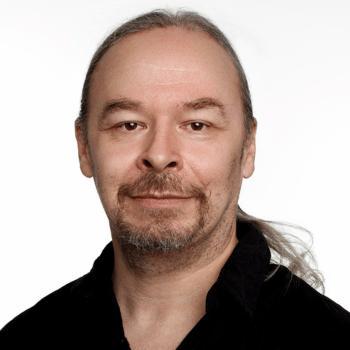 College Tutor Gary Wright offers guidance both to those already working with spirit as well as those just starting out. With a history in the arts, he is skilled at helping creatives overcome their blocks.
Read more about Gary
Register your interest
This course has already taken place, please register below and we'll let you know when it runs next.